Permanency Support Supervisor recognized for outstanding community work
Abilene, Texas – 2INgage is proud to announce that Kimberly Brusewitz was this year's recipient of the Child Welfare Champion Award, which was recently announced by theChampion For Children (C4C) organization.
The annual C4C Awards honor individuals who are helping families and children lead better and safer lives. The plaudits also celebrate the often unsung heroes who dedicate their professional lives to assist communities in taking better care of vulnerable children. Along with Child Welfare Champion, the three other accolades handed out each year are Community Champion, Frontline Champion and Heart of the Champion.
Brusewitz, who serves as the 2INgage Permanency Support Supervisor, was recognized along with all nominees and award winners at this past April's Champions For Children Luncheon. The award recipients were selected by a panel of past award winners and committee members.
"I am honored and humbled by the support I receive from my team and the organization's leadership," Brusewitz said. "I would not be as successful without the support and dedication of those who I work with daily. I am truly inspired by their commitment to serving our most vulnerable population, and I am proud to be on their team."
Brusewitz currently oversees both the Preparation for Adult Living (PAL) program and the Family Finders program. She began working with 2INgage in May 2020 after previously serving as a Conservatorship Specialist for the Department of Family and Protective Services (DFPS). She held CVS, adoption specialist and community engagement specialist positions during her time at DFPS.
She also has an intimate relationship with the foster care system, as she has also personally adopted in the past.
Brusewitz studied at Texas Lutheran University, where she earned a Bachelor of Art degree in psychology with a minor in theology in 2015. She also obtained a Master of Art degree in children, youth and family studies from Luther Seminary in 2017.
"The title of this award is very fitting, as Kimberly truly is a champion of the child welfare system." 2INgage Director of Permanency Support Stacy Lee said. "She comes to work each day motivated to ensure that our teenagers are served with the dignity and respect they need to reach every goal they set as they start their young adult lives. She brings fun, creativity and a strong drive to the Independent Living Program. We are so proud to have her on our team."
All who work in child welfare organizations are eligible for the C4C awards. Nominations for the 2022 honors are currently being accepted by Champion For Children.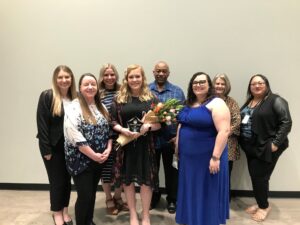 2INgage is a unique partnership between Texas Family Initiative LLC and New Horizons Inc. that works together to serve some of our most vulnerable children and families. This partnership has combined child welfare experience of more than 95 years and will further our community's pursuit of caring for our children and families with integrity and success.To learn more, please visit www.2ingage.org.